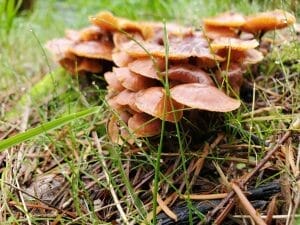 One of the (many) challenges small organizations like us face is keeping all the social media channels up to date. I noticed — horrified! — that I hadn't updated our site since July, and our Facebook event calendar is out of date.
Anywoodle, we do try to organize community walks twice a month, and do try to keep the Facebook events up-to-date. If you're interested in our walks — low-pressure amicable perambulations through different areas of the forest — check out the calendar and drop in.
Sunday, November 20, we'll meet up at 11 am at the Surrey Nature Centre parking lot at 14225 Green Timbers Way.
The exact walk to be decided. We'll try to go somewhere we haven't been to in a while, and it will also depend on who shows up and what they'd like to do!

Bring gloves if you'd like to help pick up litter along the way.
The complete trip should be about 2 miles (3-4 km) and be on mostly flat level gravel trails. We may change the route depending on what people want to do. Meet at the Surrey Nature Centre parking lot (14335 Green Timbers Way, free) at 11 am. There is no need to register and there is no fee.