Make a difference. Join the Green Timbers Heritage Society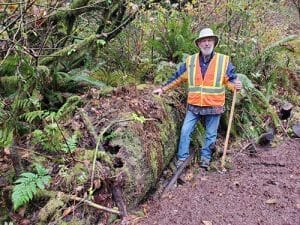 Rich in social and natural history, the Green Timbers forest has something for everyone. But who will speak for it? Who will speak for the trees?
Help the Green Timbers Heritage Society protect and enhance this gem right on the edge of Surrey's downtown core.
The Green Timbers Urban Forest and Park exists because people just like you wanted this area preserved and enhanced for future generations. Be the change and help us to:
Educate others with nature or history tours
Make it better with garbage pickups (surprisingly fulfilling)
Speak up! Provide feedback to the City of Surrey, Metro Vancouver, Translink and BC Hydro when they do things that impact the park
Enhance the experience to make the area even better! Green Timbers is Surrey's "Central Park" or "Stanley Park". How can we make this the showcase green area other cities look at with envy?
What makes Green Timbers especially special?
You may already be familiar with Green Timbers, but have you seen everything there? Here are a few things to see at Green Timbers Urban Forest and Park
1 Surrey Nature Centre
After Green Timbers was logged, the BC Forestry Service used this site. Now home to the Surrey Nature Centre, it's your starting point for exploring!
2 Green Timbers Urban Forest Museum
Learn about the history and how the forest was saved.
3 Arboretum
Planted in the 1930s, this area of Green Timbers has over 100 exotic trees.
4 Inaugural Plantation
The Green Timbers Inaugural Forest Plantation is the first attempt at reforestation in the history of B.C.
Plus…
• See a really, really big rock dropped by the glaciers as they retreated (called an erratic)
• Fish for trout at Green Timbers Lake
• See the Commemorative Plantation
• See the 2-billionth tree seedling planted in B.C.
• Explore lots of trails for people of every ability
Make a difference. Join the Green Timbers Heritage Society
By becoming a member you'll be helping to preserve, sustain and enhance Green Timbers for future generations.
As a Member of the Green Timbers Society you guide its direction and propose projects
You are eligible to sit on the Board of Directors
You are eligible to join Society committees and plan and organize events
Your membership dues directly fund our conservation and education initiatives!
Lobby on behalf of the trees. They can't speak for themselves.
Plus… Volunteering looks great on a resume
Interested, but not quite ready to commit? Sign up for our email newsletter
We understand… you're hesitant. Is it a scam? Do you really want to get involved? Why not dip your toes and get our email summary about once a month, maybe less than that. You can unsubscribe at any time of course!
Want to see how we operate? Sit in on one of our virtual meetings
The Green Timbers Heritage Society is a welcoming, transparent, open-to-all type of organization. We have director meetings once a month (virtual meetings for the past year or so) where we discuss the beavers, what trees were deemed hazardous, and try to see what activities we can squeeze into our all-too-busy schedules. We're all volunteers and we all have an interest in the area — just like you!
Meetings are held the second Tuesday of every month. email info@greentimbers.ca to get a link to the meeting. Our next meeting is Tuesday, November 9, from 6:30 pm (soft start) to about 8:00 pm.
Social Media stuff:
www.facebook.com/greentimbers
www.instagram.com/green_timbers_heritage_society/
www.meetup.com/GreenTimbers/
Use hashtags #greentimbers #greentimbersurbanforest
Take the plunge! Make a difference and join the Green Timbers Heritage Society
Membership and donations are tax deductible.
Green Timbers: an urban oasis, rich in history, spectacular with nature.