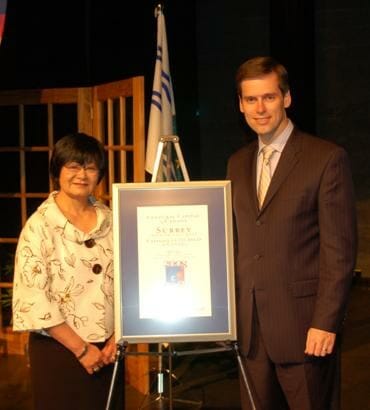 Russ Hiebert and Minister of Heritage Bev Oda at the award presentation
Surrey Wins $2 Million Federal Cultural Capital Award
(Surrey, BC) – Local MP Russ Hiebert today joined Mayor Dianne Watts and Minister of Heritage Bev Oda at the Surrey Arts Center where Surrey was designated the Cultural Capital of Canada for 2008 and awarded $2 million.
"This is a great day for Surrey," said Hiebert.  "This award recognizes the significance Surrey plays on Canada's cultural stage, and this funding will go along way in helping promote Surrey's rich cultural heritage."
The 'Cultural Capitals of Canada' is a national program that recognizes and financially supports municipalities that organize special activities that harness the many benefits of arts and culture in community life.  There are three different categories of municipalities based on population.  Surrey won in the largest category – municipalities with populations over 125,000 people.
"Surrey put together a fantastic package that I was proud to endorse, and we're excited that Surrey came out on top," Hiebert said.
Included in the projects and planned events for Surrey are:
Kla-How-Eya Canoe: Workshops in traditional knowledge for the general public
Green

Timbers Forest

Interpretation Centre
"Fusion Festival" of the cultures of Surrey
Vaisakhi performing arts festiva
Six public art projects for Surre
"I'm really looking forward to these events," said Hiebert.  "It's going to be a great celebration of the various cultures represented in Surrey."